The Single Euro Payments Area (SEPA) will soon be moving into a new frontier with real-time or immediate payments. SEPA was an initiative made to achieve integration of payments. Since the Euro was introduced, the focus has been on integrating the Euro payments market. This has been done by calling upon those in the payments industry to strengthen the common currency by coming up with a set of streamlined payment schemes and frameworks for electronic Euro payments.
Real-time SEPA payments
Now SEPA is moving towards harmonizing real-time payments. This is being done to make Europe a more competitive economic hub and to promote growth. As the shift towards SEPA credit transfers and direct debits nears completion along economic digitizing that will change the expectations of consumers and retailers, the focus of the European Payments Council (EPC) will be on instant payments over the next years to come.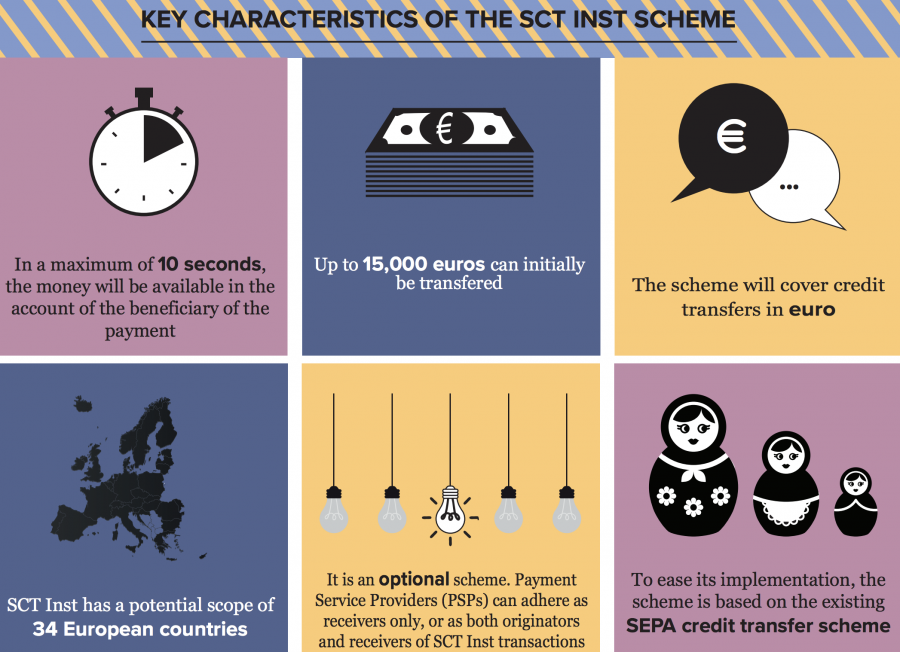 Understanding the change
To achieve this goal, the Euro Retail Payments (ERPB) has put forth a definition of instant payments. The ERPB is a body overseen by the European Central Bank that works to harmonize demand and supply in the industry with a view to providing solutions in regard to strategic retail payment issues.
The ERPB defines instant payments as electronic retail payments that are available around the clock. The definition also states that this availability results in the immediate or almost immediate clearing of interbank transactions and crediting of funds into the account of the payee with confirmation to the payer in a matter of seconds after a transaction has been initiated. Ideally, this would be achieved regardless of which payment instrument was used -- direct debit, payment card or credit transfer, which underlying arrangements were made for clearing such as clearing via infrastructures or bilateral interbank clearing. The targeted maximum time in which a transaction would be executed is 10 seconds.
Timelines
This initiative has been put in a SEPA Instant Credit Transfer (SCT Inst) scheme, with the version 1.0 of the 2017 SCT Inst Rulebook that was published on 30 November 2016. 2017 (SCT) Inst Rulebook version 1.0 will take effect on 21 November 2017 and will remain in effect up to November 2019. The 21 November 2017 date was settled on to allow sufficient time for implementation of the changes that are necessary to be in compliance with the SCT Inst scheme.
Moving forward
2018 will be the next scheme management cycle. Stakeholders have a chance to give their change requests to the SCT SCT Inst Rulebook by 31 December 2017. The change requests that are received will be given consideration in regard to the rulebook version. Implementation guidelines related to this will be published in November 2018 and they will be in effect as from November 2019.
B2B Pay
International wire transfers can take many days to settle. With a B2B Pay virtual bank account international global exporters get a direct connection into the SEPA payment system. Instant SEPA allows B2B Pay to directly notify the exporter when a payment is made.