SEPA stands for Single Euro Payments Area. SEPA money transfer is a payment system that simplifies bank transfers denominated in EUR. SEPA is an initiative by the European Union. As of July 2015 the SEPA countries are the 28 member states of the EU, Switzerland, Iceland, Norway, Liechtenstein, Monaco, San Marino and Andorra.
SEPA payments are free and this has been a great boost to international business in Europe.
As an exporter to Europe you can get a virtual bank account in Europe with B2B Pay. With this account your business partners in Europe can directly send you Euros through a SEPA transfer without a fee. B2B Pay makes sure the money gets to your local bank account for the lowest fees possible, up to 80% cheaper than normal bank transfers.
SEPA payments:
How much time to settle?
Most SEPA payments are settled the next day.
SEPA stands for the Single Euro Payments Area. SEPA is where more than 500 million citizens, over 20 million businesses and European public authorities can make and receive payments in euro under the same basic conditions, rights and obligations, regardless of their location.
As of November 2017 banks are starting to implement Instant SEPA, which will settle payments within 10 seconds.
SEPA: cheap, easy and fast
This system is fantastic as it makes for easy and fast transfers, for the same price as national payments, thus free in most cases.
The SEPA bank transfer system works by enabling exporters and customers to use cross-border bank transfers without the hassles and fees associated with using conventional bank wire transfer methods. For exporters who want to access the SEPA system, a bank account in one of the European partnering countries is required. This is easier said than done. With a virtual bank account you can have a bank account in the country of your choice, which will allow you to receive Euro credit transfer transactions from 35 countries in the SEPA zone.

---
While it is a single currency system, there are many countries included within the system that don't use the EUR but where you can also have a Euro bank account which make it a considerable portion of the European market.
Part of having a bank account with a bank located inside a physical building is the International Bank Account (IBAN) number. This is how banks around the world identify the account from which the credit transfer is taking place.
---
A virtual bank account, such as B2B Pay, is also equipped with the technology and legal status to give your account an IBAN number. This is what makes trading within the SEPA system possible. A virtual bank account in Europe can be linked to the bank you use in your home country. B2B Pay provides technology (with a payments API) to enable transactions which once took time, paperwork, and of course high fees. There are more than 100,000 banks within Europe. Access these for one low rate, wherever they are located. That is the essence of using a virtual bank account from B2B Pay for SEPA.
The advantages of B2B Pay virtual bank accounts include fees, for SEPA that means you will not pay any more than you would for a credit transfer to a local bank, no matter where you live in the world or where in Europe your SEPA bank account is. SEPA is designed to encourage activity among European countries which trade and use the Euro as their main currency. The intent is to keep things simpler for exporters, importers, and others in business as well as customers who purchase the products and services of these companies.
A SEPA bank transfer is usually free and on working days it usually takes no more than an hour or two when for transfers between the major Target2 insititutions. The SEPA region contains 35 countries in Europe.
SEPA credit transfer vs direct debit
Although they have similar names and both involve transferring funds across international borders, SEPA credit and debit transfers are two different things. SEPA stands for the Single European Payment Area, a European scheme to standardize the payments market across the EU. SEPA uses euros as funds, and is regulated by the European Payment Council. SEPA was first set up in 2008, and it replaced all former methods of international payments within SEPA in October 2016.
---
SEPA credit transfer
A SEPA credit transfer is done in euros. It is a simple one-time transfer of funds from one bank account to another using IBAN identification codes. SEPA credit transfers are frequently used by customers as one-time payments for goods or services. For example, a business traveler from Germany can buy goods and services in France using SEPA credit transfers.
---
SEPA debit transfer
A SEPA debit transfer is also done in euros. However, unlike a SEPA credit transfer, which is a simple one-time payment, a SEPA debit transfer is a recurring payment across international borders within the EU. In order to set up a SEPA debit transfer, the customer has to supply a signed authorization to the payee, along with information about the bank account being used as the source of funds, such as the name on the account, account number, IBAN, and BIC. The merchant or payee has to retain proof (a mandate) that the customer has authorized the recurring payment. Mandates can be either electronic or in paper form.
SEPA debit transfers can be set up to pay a fee on a recurring basis for only a certain number of times or an indefinite number of times until cancelled. SEPA debit transfers can be set up between a customer and a business, for example, to pay monthly rent, a recurring loan payment, or to pay for a regular service provided by a business, such as housecleaning, electricity, or internet access. SEPA debit transfers can also be set up between two businesses to pay recurring fees. For example, a business may subcontract with another business to provide security for a recurring regular fee that can be paid via SEPA debit.
European Payment Council
SEPA credit and debit transfers were organized by the European Payment Council as a way to improve international payment processing within SEPA, which includes 35 different countries. In order to use SEPA credit and debit transfers, the payment service providers have to be formal participants in the SEPA scheme.
B2B Pay only works with credit transfers
With B2B Pay exporters outside of Europe can get a virtual bank account inside the SEPA region, including IBAN number. The B2B Pay account only works with credit transfers.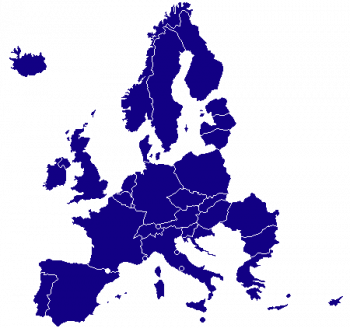 When did SEPA start?
Credit transfers became available across Europe in January 2008. Direct debits and debit cards were made possible towards the end of 2010. Now five years later this has led to much more competition, increased efficiency and thus cheaper and more efficient cross border Euro payment transfers.
In August 2014 99.9% of direct debit, 99.4% of credit transfers and 79.2% of card payments in the Eurozone were handled by SEPA.
SEPA countries list
EUR countries
This is a list of SEPA zone countries that use the Euro as their main currency.
| Country | IBAN/BIC code |
| --- | --- |
| Åland Islands | FI |
| Austria | AT |
| Azores | PT |
| Belgium | BE |
| Canary Island | ES |
| Cyprus | CY |
| Estonia | EE |
| Finland | FI |
| France | FR |
| Germany | DE |
| Greece | GR |
| Ireland | IE |
| Italy | IT |
| Latvia | LV |
| Lithuania | LT |
| Luxembourg | LU |
| Madeira | PT |
| Malta | MT |
| Monaco | MC |
| Netherlands | NL |
| Portugal | PT |
| San Marino | SM |
| Slovakia | SK |
| Slovenia | SI |
| Spain | ES |
SEPA countries where EUR is not local currency
Currency code where the local currency differs from the Euro. Also in non-EUR country most importers have Euro bank accounts and can thus transfer money over SEPA for free.
| Country | IBAN/BIC code | Currency code |
| --- | --- | --- |
| Bulgaria | BG | BGN |
| Czech Republic | CZ | CZK |
| Denmark | DK | DKK |
| Gibraltar | GI | GIP |
| Hungary | HU | HUF |
| Iceland | IS | ISK |
| Liechtenstein | LI | CHF |
| Norway | NO | NOK |
| Poland | PL | PLN |
| Romania | RO | RON |
| Sweden | SE | SEK |
| Switzerland | CH | CHF |
| United Kingdom | GB | GBP |
BIC code differs from IBAN code
French overseas territories have a different BIC code. IBAN bank account numbers start with FR.
| Territory | BIC code | IBAN code |
| --- | --- | --- |
| French Guiana | GF | FR |
| Guadeloupe | GP | FR |
| Martinique | MQ | FR |
| Mayotte | YT | FR |
| Réunion | RE | FR |
| Saint Barthélemy | BL | FR |
| Saint Martin (French part) | MF | FR |
| Saint Pierre and Miquelon | PM | FR |
If you're looking for an Excel sheet or a machine readable .csv:
A SEPA transfer is also accessible for companies outside of Europe
When you sign up with B2B Pay you will get your own Finnish payment account inside the SEPA zone. We provide this service to companies in the United States, Canada, India, Singapore and many other countries. You can use the IBAN number to easily receive SEPA transfers. Currently your payment is processed by one or more of the 100,000 banks in Europe. B2B Pay is a global B2B payment system for exporters to Europe, powered by Barclays, Nordea bank and Techstars.
With B2B Pay your payment is handled for free inside SEPA, than transferred to your local bank account for the best fee in the market, up to 80% less than what you're paying currently in fees. With B2B Pay you can increase your profit margins by 10-20%. Check our case study to see why. Contact us if you have questions.
Further reading about a SEPA Transfer
An Introduction to SEPA by the EPC
The European Payments Council produced this extended video of almost 8 minutes about SEPA.