How to open a bank account in Ireland
There's a mixture of culture, friendly people and thriving economy that brings international arrivals to Ireland at a steady pace. One can count on a lively, rich social life and fun - all the pubs, beer and live music in Irish cities make the place a wonderful, entertaining country to call a home. Unforgettable landscape, pastoral and dramatic at the same time, gives an opportunity for countless spectacular weekend trips. International and national food scene in Ireland is gaining a lot of attention, while if you simply love good milk products, you will be also incredibly happy with all the butter and milk you can find there, as Ireland produces some of the best dairy on the planet. English spoken in Ireland might be the easiest for foreigners to understand, and their culture, architecture, literature and sense of humor make living there interesting and fun.
There are also international companies with their well-paid jobs, and wonderful universities, which is why young people looking for jobs, students, workers and creatives consider Ireland a place to settle in. And when you're moving to Ireland, you will need a bank account there. We have prepared a small guide for you how to do it, fast and easy.
Documents needed to open a bank account in Ireland
It is rather straightforward to open a bank account in Ireland, whether you're a resident, a non-resident, or a citizen. Looking at the website of Bank of Ireland, all you need to do is provide two types of information:
Passport or photo ID
Proof of address such as a utility bill or bank statement or official correspondence
Banks usually accept scanned copies of these documents, but they do not regard a mobile phone bill as a proof of address. You will be able to show your landline phone bill, an electricity or gas bill instead. Both of these documents need to be certified by a solicitor or a police officer, and - if they're not originally in English - translated first by a professional company.
What's convenient, is that for example Bank of Ireland allows you to apply and open a bank account remotely, by telephone.
Can I open a bank account in Ireland as a non-resident?
Yes, it is possible to open a bank account in Ireland as a non-resident. All you will have to provide is proof of address from your home country and a scan or original proof of identity. As mentioned above, some of the banks make it possible for non-residents to open an account without visiting Ireland. Main difference is that some financial institutions will ask you to present two proofs of identity and/or residency instead of one.
Best banks in Ireland
Ireland is not only home to Ryanair, Primark or Kerry, but also a country chosen by Apple, Google, Facebook, PayPal, Microsoft, Yahoo, eBay, AOL, Twitter and Intel. Pfizer, Boston Scientific and Johnson & Johnson, to name a few. And with a thriving business and economy come great financial institutions. You will find in Ireland the so-called Big Four, four national banks that share between themselves a majority of national market, but also smaller, local institutions and international players.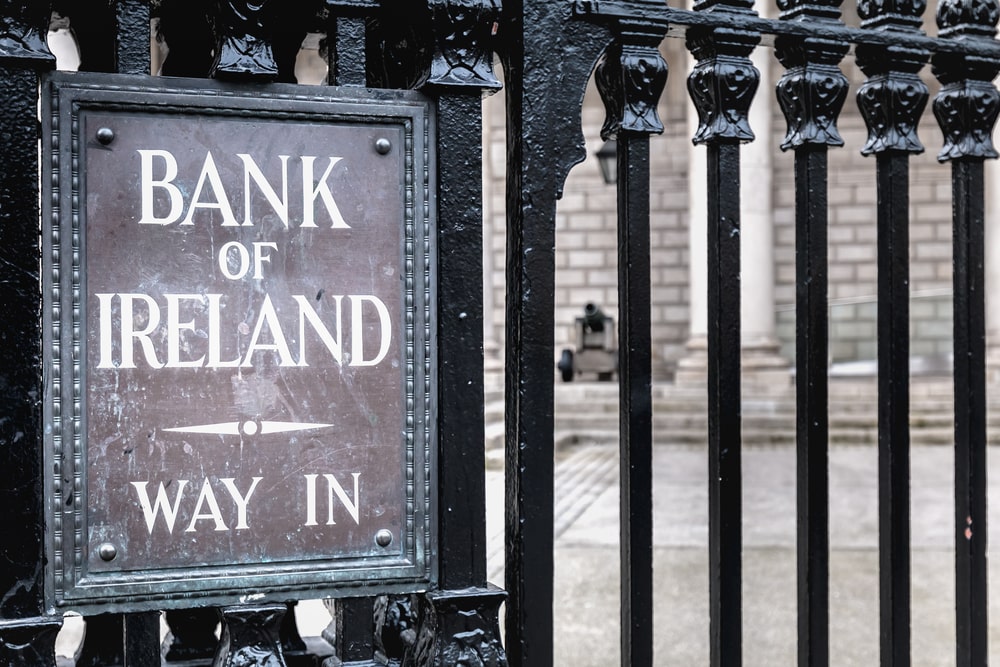 The Big Four are:
Bank of Ireland this is the largest bank in the country with the widest network of branches and ATMs. They have a range of choices, starting with a student account (in various levels, depending on the stage of your studies, coming with more perks with each level), business banking and basic current and savings accounts. These accounts come with contactless debit cards. If you are opening a business account you may qualify for overdraft and cashback. Bank of Ireland runs an educational program Financial Wellbeing, helping people understand and manage their finances. As a national bank, it has a wide presence around Ireland.
Allied Irish Banks, known as AIB, belongs to a corporate group that counts into its clientele both private and corporate entities. The bank is present in Northern Ireland, and it is owned since 10 years by the Government of Ireland. They offer a comprehensive list of services to their clients, including insurance, investments, exchange of money in various currencies, mortgages and loans. Aside from personal banking, there is also private banking for high earning individuals. You have several student and graduate account options, a Sterling account to receive and send payments within the UK, and even a foreign exchange option with a card that can be used to pay and withdraw cash in millions of locations around the world. The official Visa daily exchange rates apply. Here you can locate the nearest branch of AIB.
Ulster Bank provides a full range of banking and insurance services to personal, business and commercial customers. They have a wide range of accounts for different types of customers - you can get one as a student, or a graduate . The accounts are mostly paid for, starting from 2 EUR fee per month for a basic option, up to 50 Euros for a Ufirst Private account, which is a premium option that includes interest-free overdraft limit of up to €1000, a travel insurance for the owner and their family, and a cashback reward system for tickets to concerts, shows and sporting events.
The charge for a basic account is waived for people over 66 years old and students. You can also opt in for one of their credit cards: a regular one, a special black one, or a student Maestro card. Their accounts include overdraft, contactless debit card and emergency cash that you can withdraw with a code from an ATM if you lose your card. And with some of the accounts, you can also get your own cheque book.
Permanent TSB is a provider of personal financial services in Ireland, offering everything from current accounts, to retail and corporate and institutional deposits, to residential mortgages, term loans, credit cards, overdrafts, as well as general insurance, pensions, investments, and life insurance. Accounts vary and include a selection of debit and credit cards, loans and insurance. You will get access to mobile and online banking, as well as customer service and banking via telephone.
KBC shares together with Permanent TSB the fourth place in the Big Four ranking. It is a relatively young institution, with less than 50 years of history, and a relatively short history of national branches, which started in 2012. Since then, the bank has absorbed offices and infrastructure of Halifax Ireland and Danske Bank, who moved out of Ireland. As with any big bank, you can count on finding here current accounts of all kinds - for students, teens, options for retirees, etc. These current accounts come with mobile app options and online banking, contactless payments and digital wallets compatibility, as well as debit and credit cards (optional). They call their offices "Hubs", with longer opening hours, also on Saturdays, and coffee served to customers, where they can do their operations in a more comfortable atmosphere. These can be found in major cities in Ireland.
Watch out with fees. One peculiarity of banking in Ireland is something called the government stamp duty which is applied to visa debit cards (2.5 euros per year). Banks may also charge to close accounts, will certainly charge for overseas card use, including withdrawals, and some will charge for over the counter transactions. We recommend you read the fine print and ask for a fee's list from your relationship manager.
The virtual bank account alternative
Transferring money abroad from Ireland is expensive when you use a bank
Moving money abroad is expensive with a traditional bank because of high costs of their operations. In some cases, a bank transfer would cost up to 10% of the total transaction, and most of these fees and charges would be hidden. Take an example of sending 10 thousand euros to India. The person receiving the money gets close to 9000 euros worth of rupees back home, as a result of all charges, exchange rates and other costs that the transfer incurs.
This is why we came up with a more affordable alternative, a virtual bank account by B2B Pay. Using the above example, the person in India gets 9900 euros worth of rupees at the end of the day. You save 900 euros! With our account, you have your own IBAN in Europe - a European bank account you can use to send and receive money within the EU and SEPA zone for free, as well as send money anywhere in the world in 33 currencies for a small 1% flat fee.
How to open a bank account in Europe
We have a few guides to guide you through the process of opening a bank account in multiple European countries and explaining why a virtual bank account with B2B Pay may be a better alternative if you are transferring money outside of Europe and taking advantage of a better rate.
---
How to open a bank account overseas
We have a few guides to guide you through the process of opening a bank account in multiple countries all over the world and explaining why a virtual bank account with B2B Pay may be a better alternative if you are transferring money outside of Europe and taking advantage of a better rate.
---